Solar Power System Cameras Makes A Difference in Saving Endangered Species
Sumatra is a region on Earth with a high level of biodiversity, but it is unfortunately experiencing one of the highest rates of deforestation globally. This has led to a decline in the population of endangered species such as the Sumatran tiger, elephant, and tapir. To preserve the forest and protect these animals, it is essential to establish national parks and ecosystem restoration areas.

To support the conservation efforts in Sumatra, PT Alam Bukit Tigapuluh ("PT ABT") was granted an ecosystem restoration license in 2015 for a concession of 38,665 hectares in the Bukit Tigapuluh landscape. PT ABT and WWF Indonesia deployed its advanced camera technology to monitor the area and protect the endangered species.
Save our "furry friends"
These cameras, featuring advanced video technologies such as ColorVu, monitor the ABT area 24/7 and can detect the movement of animals using intelligent technology. The cameras provide high-quality images that assist in observing and studying the animals' activity patterns. The use of Solar-Powered Security Cameras has made monitoring more practical for off-grid locations.

The cameras are equipped with advanced algorithms that detect movements and send alarms to operators to notify them about the areas traversed by these animals. It combines visual and thermal images, enabling operators to directly monitor the events. The innovative technology has improved efficiency and accuracy in observing wildlife in low-light conditions.

The rare sighting of a Sumatran elephant in the ABT area in February 2023 is a testament to the outcomes of diligent forest restoration and protection efforts. We are committed to exploring innovative technology to secure the sustainability and biodiversity of the world.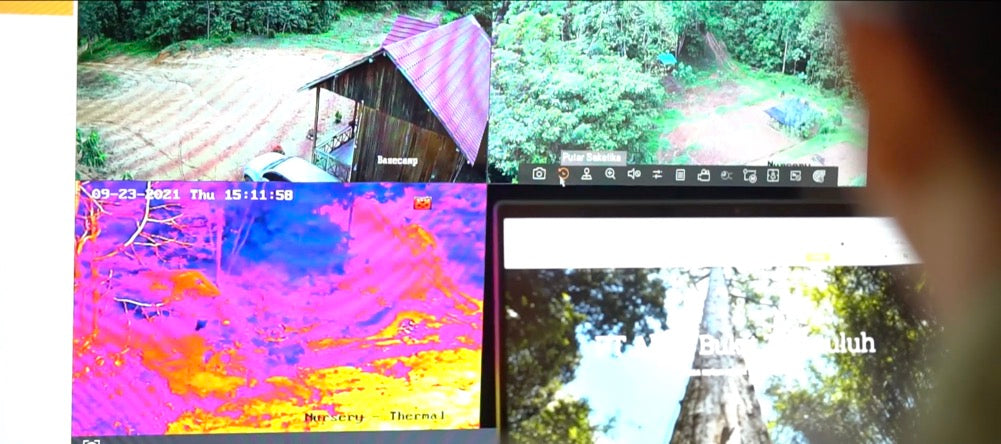 Highly intelligent and reliable video monitoring 24/7 
We have implemented advanced video technologies, including ColorVu, to provide highly intelligent and reliable 24/7 video monitoring of the animals in Sumatra. These cameras are equipped with advanced lenses and high-performance sensors that capture clear day and night images, providing vivid color even in low-light conditions. To ensure reliable operation in adverse weather and darkness, Thermal and Optical Bi-Spectrum Speed Dome Cameras have been installed, which detect movements using the advanced algorithms and send alarms to operators. The bi-spectrum feature combines visual and thermal images, enabling operators to monitor events directly.

To address the challenges of deploying power supplies and network cables in the forest, Solar-Powered Standalone Security Cameras have been installed. These waterproof and windproof units are self-sufficient and provide a practical solution for off-grid monitoring.

According to Dody Rukman Bratamidjaja, CEO of PT ABT, "The
innovative technology has brought positive changes to our work, capturing clear and colorful images in low-light conditions, and improving our efficiency in terms of time and manpower, compared to the previous manual approach."

We believe that our solutions can revolutionize the way conservationists learn about and protect the animals in Sumatra. Our improved wildlife observation and protection solutions can better safeguard the wildlife and biodiversity in Sumatra, and we are proud to support the efforts of the ABT team.