Description
This is a fully integrated ALPR Automated License Plate Recognition camera. It can not only capture and recognize license plate numbers in all light conditions, but also analyze vehicle make,model and color. This 2021 newly designed camera adopts higher performance chipset and support OCR +Deep Learning dual recognition modes.
Outstanding Features
• Al deep learning + OCR dual recognition modes
• Up to 98% recognition accuracy, much higher than regular OCR based recognition.
• Dedicated firmware for the United States,Europe,Asia and Middle East.
• 8-32mm motorized lens(optional 2.8-12mm lens)
• Vehicle attributes analysis
• Alarm l/O
• Integration with access control system by Wiegand protocol
Camera
Image Sensor
1/1.8″ Progressive Scan CMOS
Min. Illumination
Color: 0.001 Lux @ (F1.2, AGC ON); B/W: 0.0003 Lux @ (F1.2, AGC ON)
Shutter Speed
1 s to 1/100,000 s
Slow Shutter
Yes
P/N
P/N
Wide Dynamic Range
140 dB
Day & Night
IR cut filter
Power-off Memory
Yes
Lens
Focus
Auto, semi-auto, manual.
Lens Type & FOV
2.8 to 12 mm, horizontal FOV: 107.3° to 39.8°, vertical FOV:55.9° to 22.3°, diagonal FOV: 130.1° to 45.7°8 to 32 mm, horizontal FOV: 40.3° to 14.4°, vertical FOV: 22.1° to 8.2°, diagonal FOV: 46.9° to 16.5°
Aperture
2.8 to 12 mm: F1.2 to 2.58 to 32 mm: F1.7 to F1.73
Lens Mount
Integrated
Blue Glass Module
Blue glass module to reduce ghost phenomenon.
P-Iris
Yes
Illuminator
IR Range
2.8 to 12 mm: 30 m8 to 32 mm: 80 m
Wavelength
850 nm
Smart Supplement Light
Yes
Video
Max. Resolution
1920 × 1080
Main Stream
50Hz: 50fps (1920 × 1080, 1280 × 720)60Hz: 60fps (1920 × 1080, 1280 × 720)
Sub Stream
50Hz: 25fps (704 × 576, 640 × 480)60Hz: 30fps (704 × 480, 640 × 480)
Third Stream
50Hz: 25fps (1920 × 1080, 1280 × 720, 704 × 576, 640 × 480)60Hz: 30fps (1920 × 1080, 1280 × 720, 704 × 480, 640 × 480)
Fourth Stream
50Hz: 25fps (1920 × 1080, 1280 × 720, 704 × 576, 640 × 480)60Hz: 30fps (1920 × 1080, 1280 × 720, 704 × 480, 640 × 480)
Fifth Stream
50Hz: 25fps (704 × 576, 640 × 480)60Hz: 30fps (704 × 480, 640 × 480)
Custom Stream
50Hz: 25fps (1920 × 1080, 1280 × 720, 704 × 576, 640 × 480)60Hz: 30fps (1920 × 1080, 1280 × 720, 704 × 480, 640 × 480)
Video Compression
Main stream: H.265+/H.265/H.264+/ H.264Sub-stream/Third stream/Fourth stream/Fifth stream/custom stream:  H.265/H.264/MJPEG
Video Bit Rate
32 Kbps to 16 Mbps
H.264 Type
Baseline Profile/Main Profile/High Profile
H.265 Type
Main Profile
H.264+
Main Stream supports
H.265+
Main Stream supports
Bit Rate Control
CBR/VBR
Stream Type
Main stream/sub-stream/third stream/fourth stream/fifth stream/custom stream
Scalable Video Coding (SVC)
H.265 and H.264 support
Region of Interest (ROI)
4 fixed regions for each stream
Audio
Environment Noise Filtering
Yes
Audio Sampling Rate
8 kHz/16 kHz/32 kHz/44.1 kHz/48 kHz
Audio Compression
G.711/G.722.1/G.726/MP2L2/PCM/MP3
Audio Bit Rate
64Kbps(G.711)/16Kbps(G.722.1)/16Kbps(G.726)/32-192Kbps(MP2L2)/32Kbps(PCM)/8-320Kbps(MP3)
Audio Type
Mono sound
Network
Simultaneous Live View
Up to 20 channels
API
ONVIF (PROFILE S, PROFILE G, PROFILE T), ISAPI, SDK, ISUP
Protocols
TCP/IP, ICMP, HTTP, HTTPS, FTP, SFTP, SRTP, DHCP, DNS, DDNS, RTP, RTSP, RTCP,PPPoE, NTP,UPnP, SMTP, SNMP, IGMP, 802.1X, QoS, IPv6, UDP, Bonjour, SSL/TLS
Smooth Streaming
Yes
User/Host
Up to 32 users. 3 user levels: administrator, operator and user
Security
Password protection, complicated password, HTTPS encryption,802.1X authentication(EAP-TLS, EAP-LEAP, EAP-MD5), watermark, IP address filter, basic and digest  authentication for HTTP/HTTPS, WSSE and digest authentication for ONVIF, RTP/RTSP  OVER HTTPS, Control Timeout Settings, Security Audit Log, TLS 1.2
Network Storage
microSD/SDHC/SDXC card (256 GB) local storage, and NAS (NFS, SMB/CIFS), autonetwork replenishment (ANR)Together with high-end Hikvision memory card, memory card encryption and health  detection are supported.
Client
iVMS-4200, Hik-Connect, Hik-Central

Web Browser
Plug-in required live view: IE8+Plug-in free live view: Chrome 57.0+, Firefox 52.0+, Safari 11+  Local service: Chrome 41.0+, Firefox 30.0+
Image
Smart IR
The IR LEDs on camera should support Smart IR function to automatically adjust powerto avoid image overexposure.
Day/Night Switch
Day, Night, Auto, Schedule, Triggered by Alarm In, Triggered by Video
Target Cropping
Yes
Distortion Correction Distortion
Yes
Picture Overlay
LOGO picture can be overlaid on video with 128 × 128 24bit bmp format
Image Enhancement
BLC, HLC, 3D DNR, Defog, EIS, Distortion Correction
Image Parameters Switch
Yes
Image Settings
Rotate mode, saturation, brightness, contrast, sharpness, gain, white balanceadjustable by client software or web browser
SNR
≥52 dB
Interface
Alarm
2 input, 2 outputs (max. 24 VDC, 1 A)
Video Output
1 Vp-p Composite Output(75Ω/CVBS)(For debugging only)
On-board Storage
Built-in micro SD/SDHC/SDXC slot, up to 256 GB
Hardware Reset
Yes
Communication Interface
1 RJ45 10M/100M/1000M self-adaptive Ethernet port
Smart Feature-Set
Basic Event
Motion detection, video tampering alarm, exception (network disconnected, IPaddress conflict, illegal login, HDD full, HDD error), black/white list of license plate
Smart Event
Line crossing detection, up to 4 lines configurableIntrusion detection, up to 4 regions configurable  Region entrance detection, up to 4 regions configurable  Region exiting detection, up to 4 regions configurableUnattended baggage detection, up to 4 regions configurable  Object removal detection, up to 4 regions configurable  Scene change detection, audio exception detection
Counting
Yes
Intelligent (Deep Learning Algorithm)
Premier Protection
Line crossing, intrusion, region entrance, region exitingSupport alarm triggering by specified target types (human and vehicle)Filtering out mistaken alarm caused by target types such as leaf, light, animal, and flag,  etc.
Road Traffic and Vehicle  Detection
Accuracy (under recommended installation and lighting conditions)Capture rate > 98%Vehicle moving direction recognition accuracy > 96%  Mistaken capture rate < 2% (entrance/exit), < 5% (checkpoint)  Blacklist and whitelist: up to 10000 recordsCaptures vehicle that has no license plateSupport license plate recognition of motorcycles (only in checkpoint scenario)  Support vehicle attribute detection, including vehicle type, color, brand, etc. (City  Street mode is recommended.)
General
Linkage Method
Upload to FTP/NAS/memory card, notify surveillance center, send email, trigger alarmoutput, trigger recording, trigger captureTrigger recording: memory card, network storage, pre-record and post-record  Trigger captured pictures uploading: FTP, SFTP, HTTP, NAS, EmailTrigger notification: HTTP, ISAPI, alarm output, Email
Online Upgrade
Yes
Dual Backup
Yes
Firmware Version
V5.5.121
Web Client Language
33 languagesEnglish, Russian, Estonian, Bulgarian, Hungarian, Greek, German, Italian, Czech, Slovak,French, Polish, Dutch, Portuguese, Spanish, Romanian, Danish, Swedish, Norwegian,  Finnish, Croatian, Slovenian, Serbian, Turkish, Korean, Traditional Chinese, Thai,  Vietnamese, Japanese, Latvian, Lithuanian, Portuguese (Brazil), Ukrainian
General Function
Anti- flicker, 5 streams and up to 5 custom streams, heartbeat, mirror, privacy masks,flash log, password reset via e-mail, pixel counter
Software Reset
Yes
Storage Conditions
-40 °C to 60 °C (-40 °F to 140 °F). Humidity 95% or less (non-condensing)
Startup and OperatingConditions
-40 °C to 60 °C (-40 °F to 140 °F). Humidity 95% or less (non-condensing)
Power Supply
12 VDC ± 20%, three-core terminal block, reverse polarity protection; PoE: 802.3at,Type 2 Class 4
Power Consumption andCurrent
12 VDC, 1.33 A, max. 16.0 WPoE: (802.3at, 42.5V-57V), 0.43 A to 0.31 A, max. 18.0 W
Power Interface
Three-core terminal block
Material
Aluminum alloy body
Screw Material
Mild steel
Camera Dimension
Ø144 × 347 mm (Ø5.7″ × 13.7″)
Package Dimension
405 × 190 × 180 mm (15.9″ × 7.5″ × 7.1″)
Camera Weight
1920 g (4.2 lb.)
With Package Weight
3060 g (6.7 lb.)
Metadata
Metadata
Metadata of intrusion detection, line crossing detection, region entrance detection,region exiting detection, unattended baggage detection, object removal are  supported.
Approval
Class
Class B
EMC
FCC (47 CFR Part 15, Subpart B); CE-EMC (EN 55032: 2015, EN 61000-3-2: 2014, EN61000-3-3: 2013, EN 50130-4: 2011 +A1: 2014); RCM (AS/NZS CISPR 32: 2015); IC(ICES-003: Issue 6, 2016); KC (KN 32: 2015, KN 35: 2015)
Safety
UL (UL 60950-1); CB (IEC 60950-1:2005 + Am 1:2009 + Am 2:2013); CE-LVD (EN60950-1:2005 + Am 1:2009 + Am 2:2013); BIS (IS 13252(Part1):2010+A1:2013+A2:2015); LOA (IEC/EN 60950-1)
Environment
CE-RoHS (2011/65/EU); WEEE (2012/19/EU); Reach (Regulation (EC) No 1907/2006)
Protection
Ingress protection: IK10 (IEC 62262:2002), IP67 (IEC 60529-2013)
Features of LPR Camera and ANPR Camera
Powered by Deep Learning | High Recognition Rate | Already Deployed in 50+ Countries | Works in all light conditions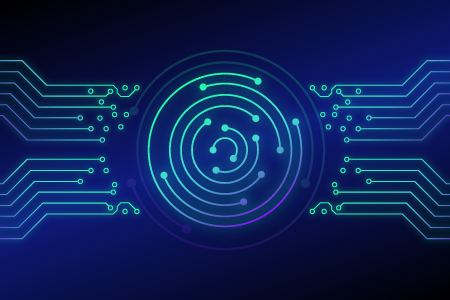 Powered by Deep Learning
This camera is powered by built-in Automatic Number Plate Recognition system. It detects and recognizes vehicle's license plate and send the data to smart NVR or VMS software for access management.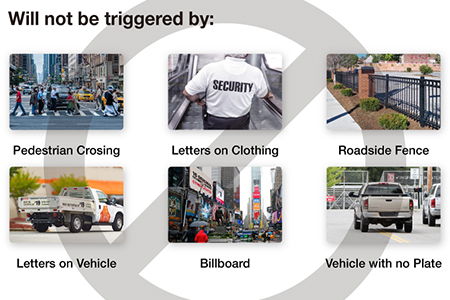 Deep Learning technology gives you superior recognition results over conventional OCR Cameras.
Deep Learning technology ensures that the camera will not be triggered by the following scenes; pedestrian crossing, letters on clothing, roadside fence, letters on vehicle, billboard, and vehicle with no plate.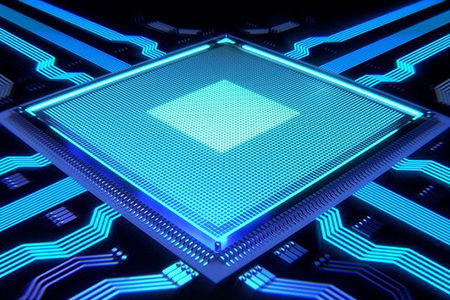 Upgraded Chipset
The ANPR camera uses the new generation high performance chipset to reduce the missing rate effectively.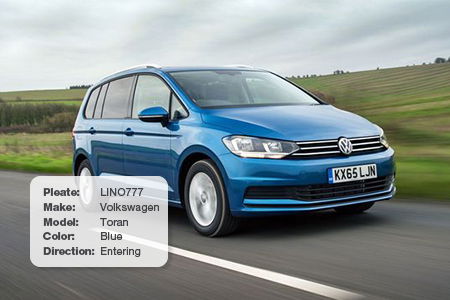 Vehicle Attributes Analysis
The LPR camera supports vehicle attributes analysis when detecting the vehicles. It can read vehicle brand, model, color, etc. This makes you can quickly seach by vehicle attributes to improve efficiency (in back-end).
Applications
License plate recognition system reads and identifies license plate automatic, making it easier for retail parking operations, law enforcement, municipal and commercial organizations to locate vehicles of interest or enforce parking restrictions.

Seamless Integration
View recognition results in real time. Searching, viewing, managing your results in NVR, VMS tools are as simple as browsing your photo album.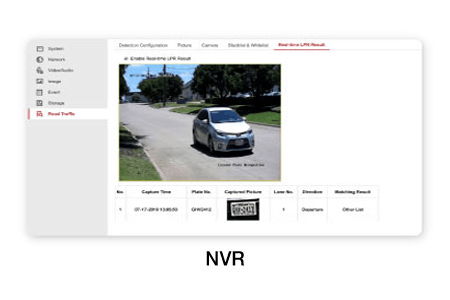 Integration with NVR
Use your NVR to view recognition results in real time. You can also configure your LPR cameras to meet your needs on NVR easily.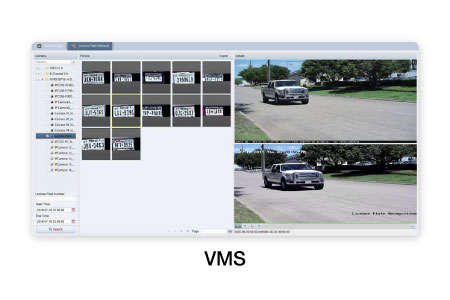 Integration with VMS
Searching, viewing, managing your results VMS(Video Management Software) is as simple as browsing your photo album. It allows you to view multiple cameras, record and retrieve video and monitor alarms.